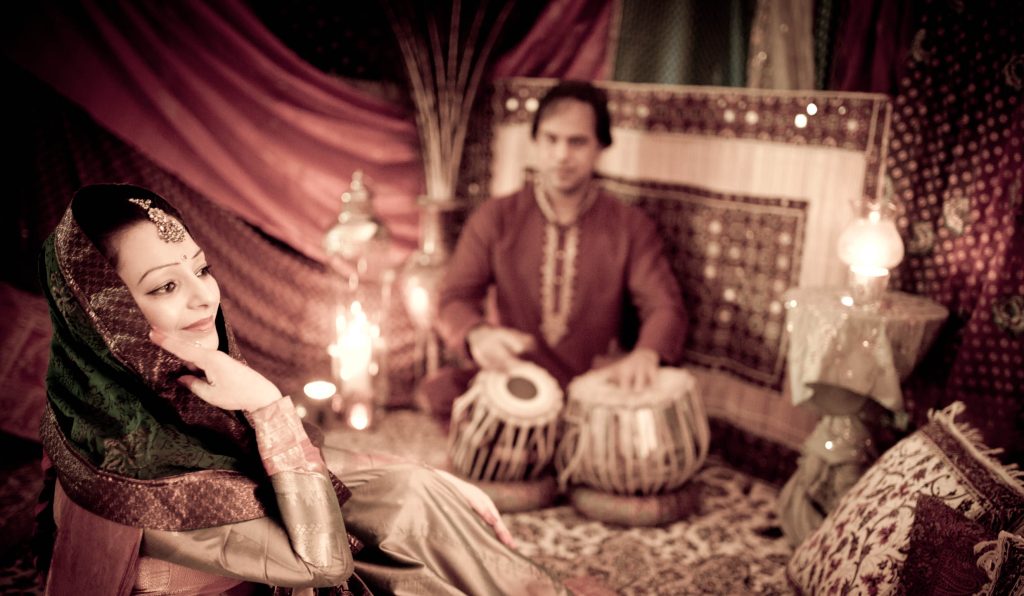 The Southampton Mela Festival returns to Hoglands Park on Saturday 16th July, featuring world-class music and dance artists, delicious food from local businesses across the Southern region, as well as family fun activities, creative workshops and a huge range of stalls to peruse throughout the day. In the lead up to the festival, we are catching up with some of the artists who will be performing at this years festival. Here we talk with renowned tabla player, musician and composer Pandit Sanju Sahai and the very talented Kathak dancer – Jaymini Sahai
You have performed many times at the Mela over the years, and through many Art Asia concerts. What will you be performing this year?
We will be performing two different sets at the Mela this year and we are really looking forward to it! The first set focuses on music from across the Globe including Indian Classical, Scottish, Irish and music from the Middle East, with Tabla, Sitar, vocals and violin. The second set brings together Kathak Dance with live music which is not that common to see in the UK. Kathak is the north Indian classical dance style stemming from the Sanskrit word meaning story. So the audience will see Kathak dance in its purest form with live music!
What is your earliest/favourite memory of the Southampton Mela to date?
Sanju: I have seen the Mela grow from strength to strength over the last few years and it is so wonderful to see all the different types of music, dance and other performances come together. It really shows the diversity and unity. The Mela touches people from outside the Hampshire region. Very often artists who join us for our sets over the years have travelled from different areas of the country and also from abroad too. I have had the opportunity to programme a variety of different performances for the Southampton Mela and really showcase our wonderful traditional classical music and dance.
Jaymini: It's amazing to see all the different workshops and activities taking place in one area. It's a wonderful opportunity for people to get a taster and perhaps take it up going forward. And the food stalls! Each year it gets better and better.
What concerts or projects have you been working on lately?
COVID has been difficult for us all and as artists it's been particularly challenging. By God's grace things have picked up and it's been a particularly busy period for us. We created a new storytelling, dance and music project called the Daksha Yagna and premiered this for an outdoor summer festival in Brighton in June. Following that we were busy with a pure Kathak dance performance set to live music in Wolverhampton. Sanju ji is currently touring with the living legend Sitar maestro Ustad Shahid Pervez Ji with concerts in London, Southampton, Birmingham and Bristol. He will also be performing at the Royal Albert Hall on 13th July. Our new show called Going Global bringing music from across the globe together with Kathak Dance will premiering on 15th July in Oxford with a second show in Chelsea on 6th August. It's a beautiful feeling being able to create new work which has such a positive impact on those around us! Please see our websites for details on our upcoming shows: http://www.sanjusahai.com / http://www.aradhana.org.uk
Who or what is your biggest inspiration as a musician/performer?
Sanju: My biggest inspiration is my Guru the late great, Pandit Sharda Sahai Ji. I owe everything to him! Apart from my Guru I take inspiration from sitar legends Pandit Ravi Shankar Ji and Ustad Vilayat Khan Saheb! And I cannot do music without remembering the Tabla genius Zakir Hussain Ji and Pandit Rajan Misra Ji who we sadly lost to covid last year.
Jaymini: My biggest inspiration is the none other that the illustrious Pandit Birju Maharaj Ji! He is another artist that we lost not so long ago! The beauty in his dance, the lyrics and his compositions transport me to another dimension. And all my Gurus who have guided and blessed me in my journey in dance. There are sources of inspiration all around us, nature, birds and the natural elements.
Where and when can we see you perform at the Mela this year?
This year we shall be performing on the Main Stage at 12.45am and 2.30pm. Both sets will be different so please do come and join us!
Tabla maestro Pandit Sanju Sahai is joined by Debipriya Sircar on Sitar and vocals, Alice Baron on violin and very talented Kathak dancer – Jaymini Sahai. The team will be presenting North Indian Classical Music also known as Hindustani classical music and Kathak Dance – an art form which involves expressions, hand gestures and intricate foot work. See you at the Southampton Mela!