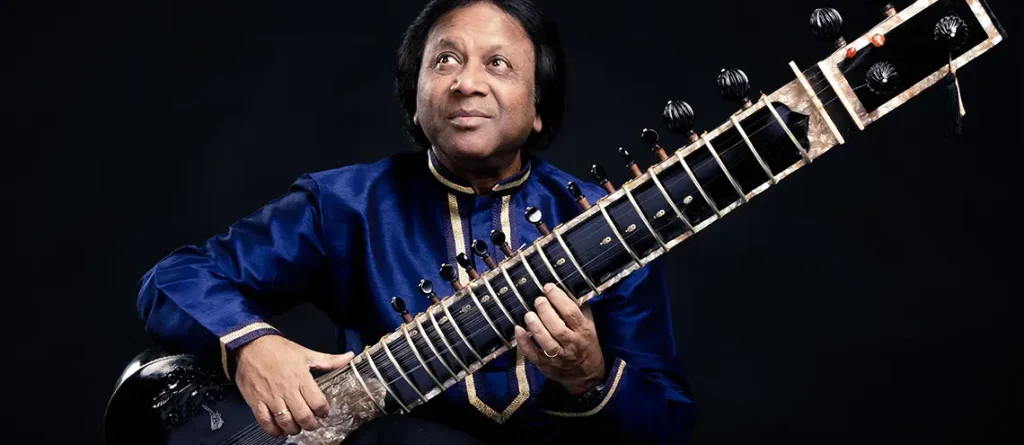 Event Information
We are delighted to partner with Turner Sims in presenting an evening with the sitar maestro Ustad Shahid Parvez Khan, regarded as one of the finest Indian classical musicians in the world.
Ustad Shahid Parvez Khan represents the seventh generation of the sitar's first family, the Etawah Gharana and was initiated into the rich traditions of the Gharana by his father and guru, Ustad Aziz Khan. He is the nephew of legendary sitar maestro Ustad Vilayat Khan, claimed by many to be on par with the great Ravi Shankar.
The power of Ustad Shahid Parvez Khan's music emanates from the highly charged sound he conjures on stage. He emphasises the unique capabilities of the sitar itself while drawing upon numerous musical influences easily recognisable to a knowing ear. He has achieved success in not just preserving tradition, but also pushing out the boundaries to even greater heights of aesthetic beauty.
The recipient of numerous prestigious awards, including the Government of India's Padma Shri and the Sangeet Natak Academy Award, Ustad Shahid Parvez Khan regularly tours across India, Europe, North America, Asia and Australia – enthralling audiences everywhere.
His playing style has inspired an entire generation of instrumentalists with his unique combination of emotional depth and brilliant technical mastery.
Indian music personified. The Hindu
It would not be an exaggeration if he is called unparalleled in his own arena in recent times. Telegraph India
Tonight, Ustad Shahid Parvez Khan is accompanied by Sanju Sahai, one of the finest and most sought-after contemporary tabla players. Belonging to the Benares gharana, Sanju has performed internationally at prestigious venues including Carnegie Hall, Sydney Opera House and The Royal Albert Hall. He has accompanied many legendary musicians including Pandit Hari Prasad Chaurasia, Ustad Vilayat Khan Saheb and Ustad Shahid Parvez Khan.
Join Art Asia's students for a pre-concert music performance at the foyer at 7pm. The students will be singing and playing harmonium showcasing Indian Ragas and art of improvisation.
If you are interested to find out more about our classes CLICK HERE
This event is presented by Turner Sims in association with Art Asia, part of national tour produced by Asian Arts Agency
Gallery