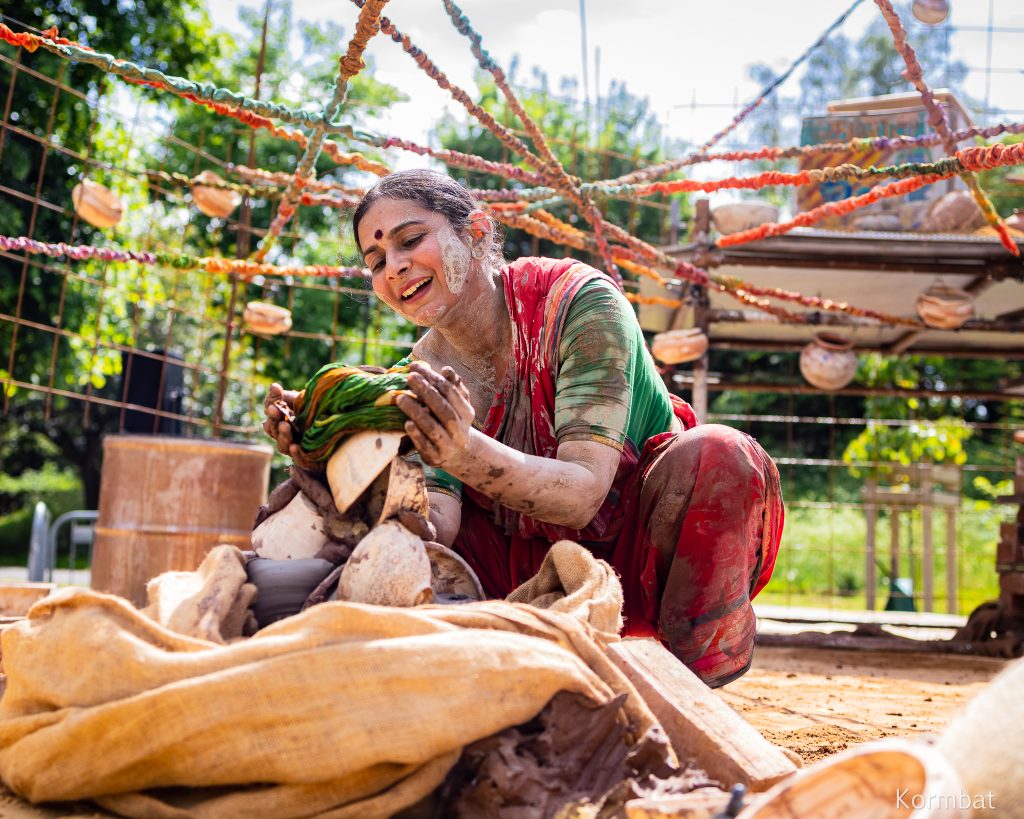 The Southampton Mela Festival returns to Hoglands Park on Saturday 16th July, featuring world-class music and dance artists, delicious food from local businesses across the Southern region, as well as family fun activities, creative workshops and a huge range of stalls to peruse throughout the day. In the lead up to the festival, we are catching up with some of the artists who will be performing at this years festival. Here we talk with artist, dancer, choreographer and tutor Vidya Thirunarayan.
Hi Vidya, thanks for joining us. What can we expect to see with your performance at the Mela this year?
A vivid and visceral  piece of theatre with Bharata Natyam dance, expressive ceramics and original music. It promises to be a  rich sensory treat for all family with a spectacular living set,  wonderful original music with a range of instruments from around the world and of course, the joy of seeing clay pots being made on the potter's wheel! It will be a powerful emotional journey  that tells the story of the Indian goddess Parvati and  Meena, a brick kiln worker from southern India. A lot of cheeky humour too!
What is your earliest/favourite memories of the Mela to date?
I still remember the very first Mela that Art Asia hosted and I remember being part of it; dancing on the main stage and more importantly the fabulous food stalls!
What projects have you been working on lately?
I was the creative director for Art Asia's virtual project hosted during the pandemic, called 'Belonging' where we enquired into this pertinent theme through the arts and it culminated in a multi-sensory installation at Southampton. It was a hugely challenging project and for the same reason was exceptionally rewarding.
Who or what is your biggest inspiration as a performer?
We live in a global world where  collaborations happen across disciplines and cultures. This doesn't mean that all get it right. I admire artists who skilfully negotiate these borders with a strong ethical compass and manage to bring out the joys of  disciplines in a cohesive manner without diminishing or diluting them, yet making them accessible to all, across cultures. I have seen the eminent theatre director Peter Brook achieve this with 'Mahabharata 'and later Tim Supple with his 'Midsummer Nights Dreams'. I watched Tim's production at London with a large multi-disciplinary and multi-lingual  cast from across Asia and was blown away with how each performer sparkled! That is why I approached Tim to direct this production. Lives of Clay is rooted in the specific, it is based in Southern India , yet it is universal in its appeal and relevance.
Where and when can we see you perform at the Mela this year?
Currently two performances are planned on the Saturday on the Main Stage. Join us on the day for the full programme of events across all 3 stages and across the site.
The festival opens at 12 noon and continues until 9pm – free entry for everyone.