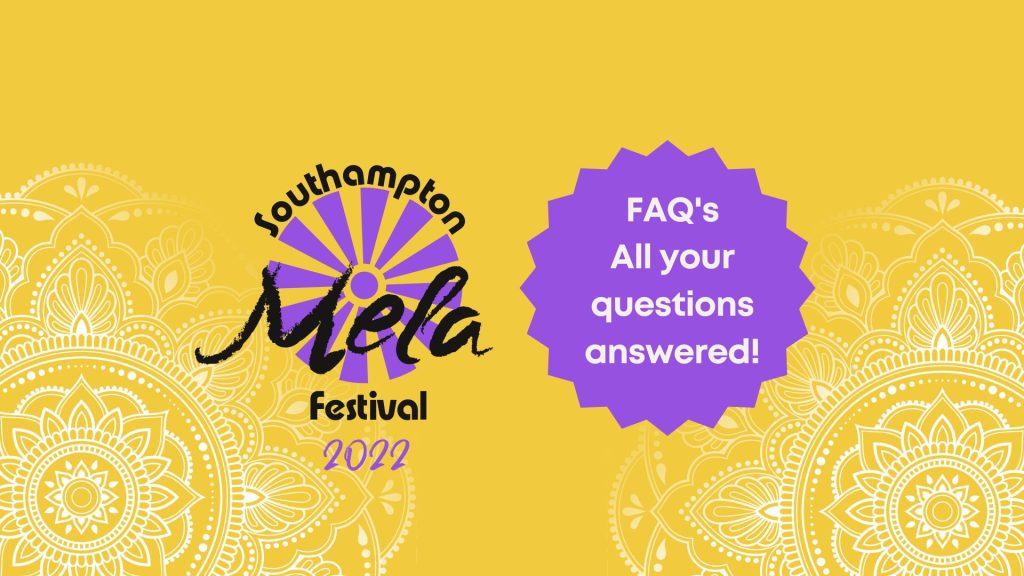 We compiled all your need-to-know information for this years Southampton Mela Festival 2022!
What time does the festival start/end?
The Southampton Mela Festival 2022 is on Saturday 16th July 2022 at Hoglands Park, Southampton
It starts at midday and ends at 9pm
How much is it to get in?
Arguably the best outdoor festival in the city centre is FREE to visit
Is there access for wheelchairs/walking impairments/can I bring my mobility scooter?
Yes, the site is flat and there are concrete paths that cross the site. In wet weather, mobility might be more challenging so please be more vigilant. 
Do I need to bring chairs or blankets to sit on?
You can bring chairs and blankets – please be aware that people will love the music so much that they will dance in the front of the stage areas and your chairs and blankets might get in the way.
Please be aware that the festival day might be hot, so wear a hat, or bring an umbrella or parasol, bring sunscreen and keep hydrated throughout the day. 
Is there parking?
No parking for the general public is available. There is limited blue badge parking allocated on a first come, first-served basis. 
Are there toilets on site?
Yes, and that includes an accessible unit
What happens if it rains? 
We think it will be really hot this year, so wear a hat, or bring an umbrella or parasol, bring sunscreen and keep hydrated throughout the day. 
However, if it looks like rain, bring a coat. The show will go on!
Are there phone charging points?
No charging points are available
What ages is this festival suitable for? 
The whole family from all backgrounds are welcome.
Is there food available for all allergies and diets? 
All traders are asked to provide a range of foods, and make you aware of allergies. If there is nothing for you, the city centre is very close and you can quickly get some food and return to the fun. 
Can we bring our own food and drink?
Yes, it is a free site but the food and drink is amazing so you will want to enjoy it. 
Is alcohol served at the festival? 
Yes, this year's bar is run by Overdraft so a great range of drinks will be available including many of Southampton's own brilliant brews. 
Is COVID still an issue? 
Even though the lockdown has been lifted, we encourage all festival goers to be vigilant in ensuring they don't actively spread the COVID virus. If you are feeling unwell before the event, please do test yourself and remain away from the site if you have tested positive. If you feel more comfortable wearing masks and keeping a safe distance, please do so; however this is not deemed mandatory in an outside setting.  
Please do bring wipes and/or sanitiser hand gel during the festival to discourage any spread of the virus.  
What environmental aspects are you encouraging at the festival site? 
All litter will be sorted off site, but please keep litter to a minimum if you can. All traders have been asked to use recyclable/biodegradable plates, cups and cutlery.
Local suppliers are being used wherever possible to reduce travel distance
Festival goers are encouraged to walk, bike or use public transport to get to the festival too.
Do you have any more questions? If so, email us at admin@artasia.org.uk and we will endeavour to answer you soon as we can!
We look forward to seeing you on Saturday 16th July 12 noon – 9pm at Hoglands Park – don't forget it's FREE ENTRY all day!