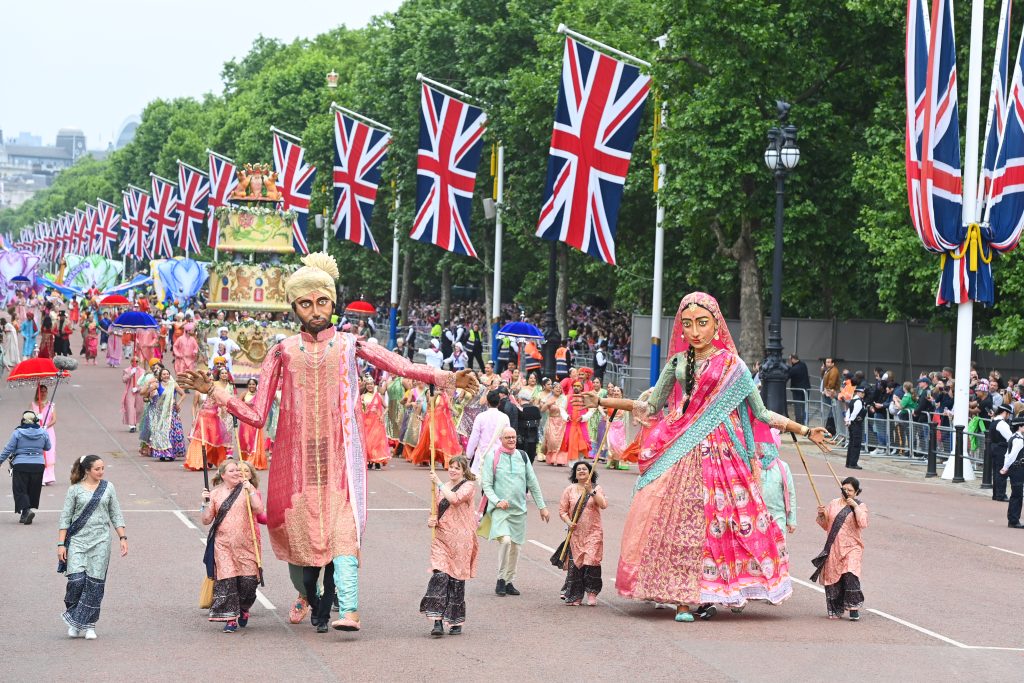 We are delighted to be working in partnership with Nutkhut and the Mela Partnership to welcome Nutkhut's Bride and Groom to Southampton Mela 2022. These two giant puppets stand 4-metres-tall and were featured as part of the Platinum Jubilee Pageant celebrations in Central London last month.
Hear more from Nutkut's Co-Artists Director Ajay Chhabra about his love of community, diversity and of course the Southampton Mela:
"Fresh from the Queens Platinum Jubilee Pageant, first stop for Nutkhut's national summer tour is the wonderful Southampton Mela, produced by Art Asia led by its CEO Dahlia Jamil. It's an excellent example of a genuine community arts event, rich in diversity, broad in its ambition and always looking to work its magic within its communities and resources to hand.
A proud partner of Nutkhut's; Mela Partnership, the festival is Southern England's premier Mela and continues to make bold and creative efforts in programming a range of artists and brings people together across the city and region. We've always enjoyed presenting a range of work to Southampton Mela audiences, from dance workshops, to Steampunk Superheroes, from our Princess stilt walkers to our co-created collaborations.
This year we present Nutkhut's Bride and Groom, two 4-metre-tall giant puppets which earlier this year featured as part of the Platinum Jubilee Pageant celebrations in Central London. Seen by over a billion people worldwide, the puppets are draped in the world's first sustainable Sari fabric, as featured on the BBC and Sky News. The puppets have focused attention on Nutkhut's campaign for sustainability through the lens of fashion.
Nutkhut's Giant puppets were singled out by broadcasters and commentators as stunning examples of British creativity and diversity, bringing life, movement and technicolour to the streets of London.
Outdoor Mela's often fall into a trap of engaging with the same performance offer; our data and diversity questionnaires tell us that Southampton Mela with the Mela Partnership has broken this pattern, challenged the norm, to create new and dynamic work for its audiences.
In the British outdoor arts community, the rich diversity of audiences and artists connected to Commonwealth countries is neglected in favour of European shows, Spanish festivals, French companies and abstract contemporary dance. For reasons we are only beginning to understand, the rich diversity of Commonwealth audiences has been overlooked and ignored.
In the case of Art Asia and Nutkhut we have come together to bring this topic of our day to mainstream audiences. To challenge programming decisions and to engage with our Commonwealth Connected audiences.
Southampton has been long been a Commonwealth gateway city – many of my family made Southampton home when they arrived from Fiji in 1960 – more than 60 years later, Southampton celebrates its rich and dynamic Commonwealth diversity through Arts Asia and the Mela.
A genuine celebration of the love of its city, of community and home." Ajay Chhabra, Co-Artists Director – Nutkhut
Find out more about Nutkhuts' work at www.nutkhut.co.uk
Photo caption and credit:
Nutkhut's Giant Puppets – The Mall, London 2022