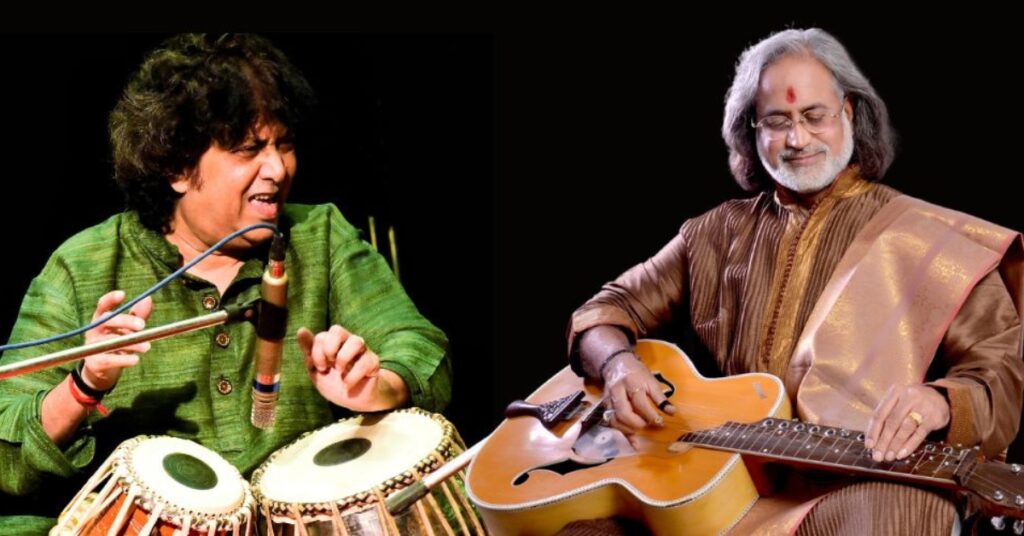 We are thrilled to announce an extraordinary musical event taking place at MAST Mayflower Studios on Thursday 25th May at 7:30pm. Renowned Grammy Award-Winning Slide Guitar Maestro, Pandit Vishwa Mohan Bhatt, accompanied by the masterful tabla player Pandit Subhen Chatterjee, will grace the stage for an unforgettable performance.
Hailing from Jaipur, Rajasthan, Pandit Vishwa Mohan Bhatt comes from a family with a rich musical heritage spanning over three centuries. His family's deep connection to Indian classical music has been a source of inspiration for his incredible journey. Throughout his career, Pandit Bhatt has captivated audiences worldwide, performing in more than 80 countries across prestigious venues and festivals. He has not only become an international cultural ambassador of Indian music but has also left an indelible mark on the global music scene.
Pandit Vishwa Mohan Bhatt's mastery of the slide guitar has garnered him numerous accolades, including the prestigious Grammy Award for his album "A Meeting by the River" with Ry Cooder in 1993. His contributions to music have been recognised by the Indian Government, receiving honours such as the Padma Bhushan, Padma Shri, and the Sangeet Natak Academy awards. With his mesmerising performances and virtuosity, Pandit Vishwa Mohan Bhatt continues to push the boundaries of Indian classical music.
Joining Pandit Bhatt on stage will be the renowned tabla maestro, Pandit Subhen Chatterjee. Pandit Chatterjee's tabla playing style stems from the illustrious Lucknow gharana, one of the six main tabla styles of Indian classical music. Over the past four decades, he has had the privilege of accompanying musical legends such as Pandit Bhimsen Joshi, Vidushi Girija Devi, and Pandit Jasraj. Pandit Chatterjee's own album, "Artistry," was even nominated for a Grammy Award in 2002, a testament to his exceptional skill and artistry.
In addition to the main performance, we are delighted to present Art Asia's singing students, who will grace the stage with a pre-concert music performance. Led by the esteemed tutor, performer, and composer Pooja Angra, the students will showcase their talent by singing and playing the harmonium, presenting a delightful array of Indian Ragas. The performance will feature short solo performances followed by a captivating group ensemble.
Don't miss this rare opportunity to witness the magic of Grammy Award-Winning Slide Guitar Maestro, Pandit Vishwa Mohan Bhatt, and the rhythmic brilliance of Pandit Subhen Chatterjee on tabla. Immerse yourself in an evening of soul-stirring melodies and extraordinary performances, brought to you as part of a national tour presented by Asian Arts Agency.
Join us at MAST Mayflower Studios on Thursday 25th May at 7:30pm for an unforgettable musical experience. Secure your tickets now for an enchanting evening of Indian classical music at its finest. BOOK HERE