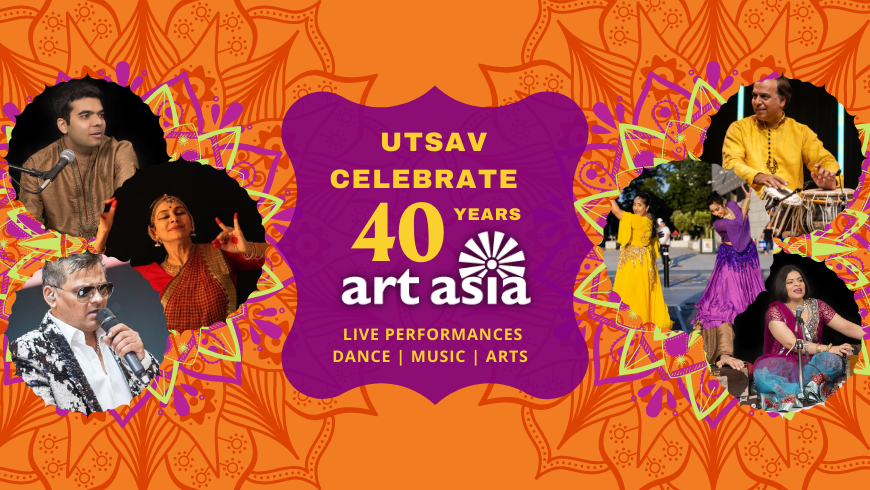 Event Information
We are delighted to host our 40th Anniversary live celebration on Sunday 21st November at MAST Studios, Southampton.
This special event marks a key milestone for us in delivering and supporting South Asian culture across the Southern region over the last four decades. We would be honoured to have you celebrate it with us.
Evening celebration 5pm – 9:30pm (with interval and food)
Expect stunning live performances from some of Art Asia's much loved artists including superb tabla playing from Sanju Sahai, exquisite Bharata Natyam dance by Vidya Thirunarayan, singing and harmonium from the renowned Pooja Angra, Bollywood dancing from the celebrated Rakhi Sood as well as Bollywood Songs presented by Dynamix Band.
The evening performance will be begin at 5pm until 9:30pm and delicious vegetarian food will also be served from the popular Southampton based Punjabi restaurant, Sanjha during the interval from 6.45-7.10 p.m. 
Tickets £10 – BOOK HERE
Limited capacity – tickets must be booked in advance 
Free family workshops during the afternoon
You may also wish to join us for our afternoon activity of music and dance performances, dance workshops and art for you and your family to enjoy from 12:30pm – 4pm.
12:30 – 15:15 – Performance and Workshops (Bollywood, Bharatnatyam, Kathak and Singing)
13:00 – 16:00 – Arts, Craft and Rangoli
Gallery