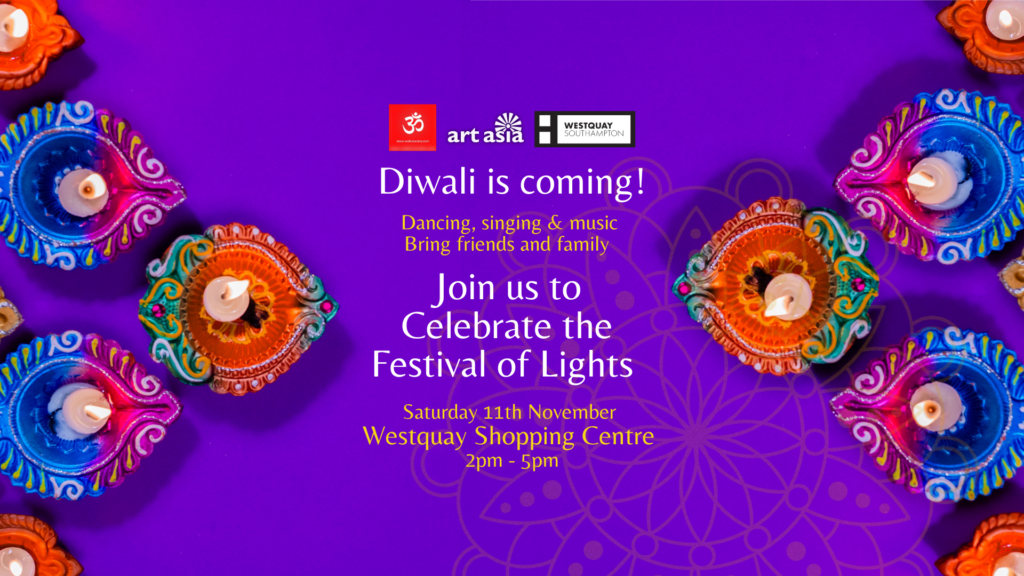 For the first time this year Westquay Shopping Centre in Southampton will host a Diwali Festival of Lights celebration on Saturday 11th November from 2pm – 5pm.
Art Asia and The Vedic Society are collaborating to bring a variety of celebratory performances, music and workshops to Westquay to celebrate the most important festival in the Indian calendar.
This free festival for all the community will open at 2pm with a procession, followed by dancing, singing and storytelling on stage on the ground floor of Westquay. Art Asia and the Vedic Society have collaborated to bring performers together, presenting singing groups, drumming, Kathak and Bollywood dance and more. There will be opportunities to join in with workshops such as diya lamp and lantern making, henna and rangoli workshops. The festival will close at 5pm with an unforgettable Diwali Parade Finale.
The event is free to attend, and full of fun workshops, music and dance.
What is Diwali?
Diwali, or Dipawali, is India's biggest and most important holiday of the year. The festival gets its name from the row (avali) of clay lamps (deepa) that Indians light outside their homes to symbolize the inner light that protects from spiritual darkness. It symbolises the spiritual "victory of light over darkness, good over evil, and knowledge over ignorance".
In a world where it is sometimes difficult to see the light, come and join the fun, be open to the light and join together with family and friends.
Event details
Location: Westquay Shopping Centre, Southampton
Date: Saturday 11th November, 2023
Time: 2pm – 5pm
Admission: Free!
With thanks to our partners Westquay Shopping Centre and The Vedic Society of Southampton.
Art Asia is thankful to funders Southampton City Council and The Arts Council Engand.