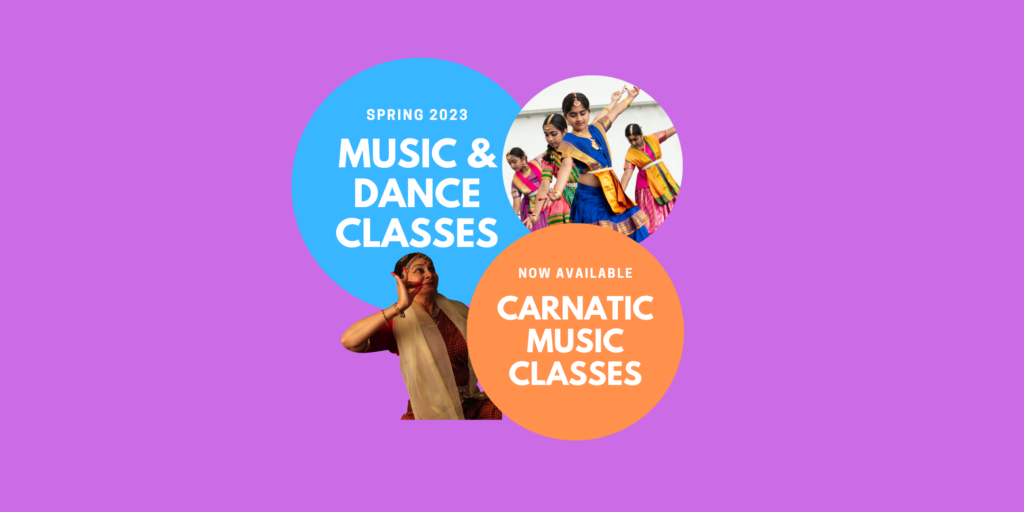 We offer a wide variety of music and dance classes celebrating our South Asian culture. Our Spring 2023 term has started and classes are for all ages and abilities led by professional artists who are experts in their field. Find out more about our range of classes here.
As a special introduction this term, we are also providing Carnatic music classes for beginners, led by our esteemed Bharatanatyam tutor Vidya Thirunarayan.
Beginners classes in Carnatic music (7 years+)
Carnatic Music is a form of Indian classical music with origins in Southern India.
Vidya Thirunarayan, will be offering vocal singing lessons enabling participants a systematic introduction to the fundamentals of Carnatic music.
Vidya trained in Carnatic music with Shri Rajaram (grandson of Sri Mysore Vasudevachar) at Kalakshetra, India.
Beyond the enriching experience music can offer, these classes will be relevant to students of Bharatanatyam as a solid foundation in Carnatic music is essential for all Bharatanatyam students to progress their dance education.
Enrol now
If you are interested to enrol, please email Pooja Angra by
8th March 2023
at
education@artasia.org.uk
or call her on
07484 097641