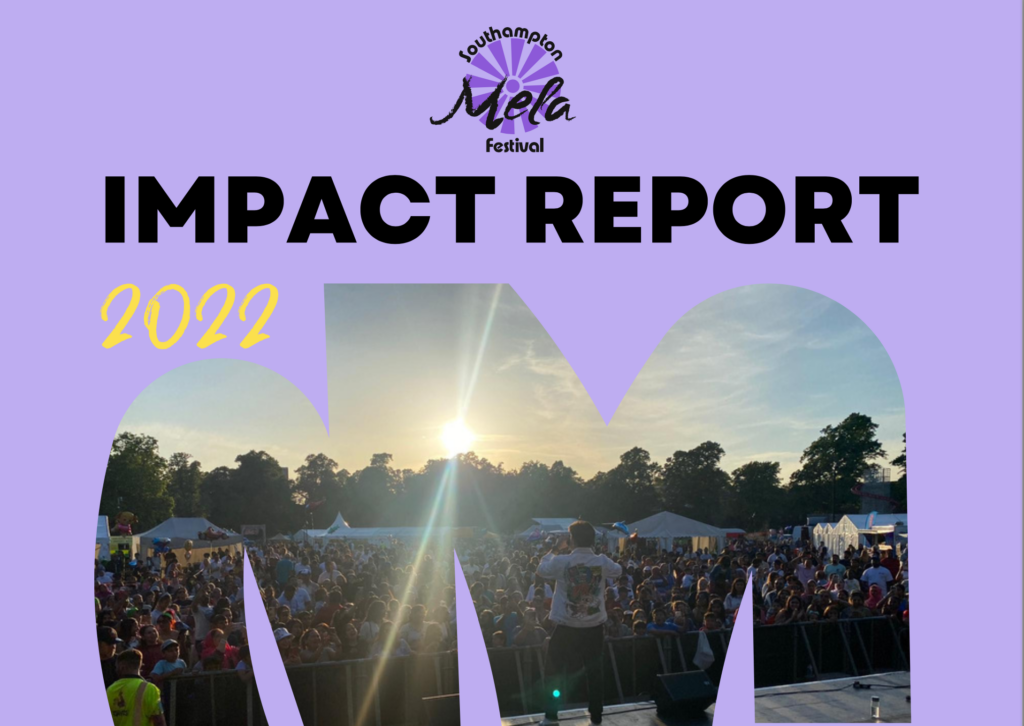 Creativity, culture and community
The Southampton Mela Festival is a long-standing summer highlight in the Southern region events calendar celebrating modern and traditional Asian culture and one of our most prominent activities we deliver here at Art Asia.
Over the last two decades, this much-celebrated festival attracts thousands of people per year from along the South coast to enjoy a fusion of music, dance and family activities, all of an international flavour from world-class artists. Over 20 years and counting, we have built a reputation as a great family day out with plenty of entertainment and activities for young and old plus entrance is free, as are most of the family focused activities.
CLICK HERE TO DOWNLOAD – Art Asia Southampton Mela 2022 – Impact Report
2022 IMPACT SNAPSHOT
28,500 VISITORS
471 ARTISTS PERFORMED
1,051 WORKSHOP PARTICIPANTS
Visitors, traders and performers reach from London, Birmingham, Manchester, Leeds, Bradford, Belfast, Edinburgh, Bournemouth, Poole, Portsmouth, Isle of Wight, Bristol Weymouth and Truro.
DIGITAL REACH
Unique and return visits and views online from UK, USA, Bangladesh, China, Canada, Brazil
Our online audience age range 18 – 44 Female 71%
95,000 REACH ON SOCIAL MEDIA
9,000 UNIQUE WEBSITE VISITS
500+ EMAIL AND WHATSAPP COMMUNITY
As featured in BBC Solent, ITV, The Daily Echo, Unity 101, Awaaz Fm, The Voice FM,
TRADERS & LOCAL BUSINESS
40+ TRADERS
£15 AVE. SPEND PER PERSON PER STALL
"I had a really great day trading! I've just started my local business after the pandemic and the Southampton Mela has given me a real boost in sales and profile this year! Thank you!" Partners in Coffee, Southampton
We can only run this much-celebrated festival with the support from our funders, sponsors and volunteers. Thank you for your continued support.
We are committed to working with like-minded partners to extend the reach and programming of the Southampton Mela. Join us in celebrating the vibrant, rich culture of South Asia by sponsoring the Southampton Mela. Be seen by thousands of people as we showcase exceptional talent and promote diversity and inclusivity in our community.
Find out more here