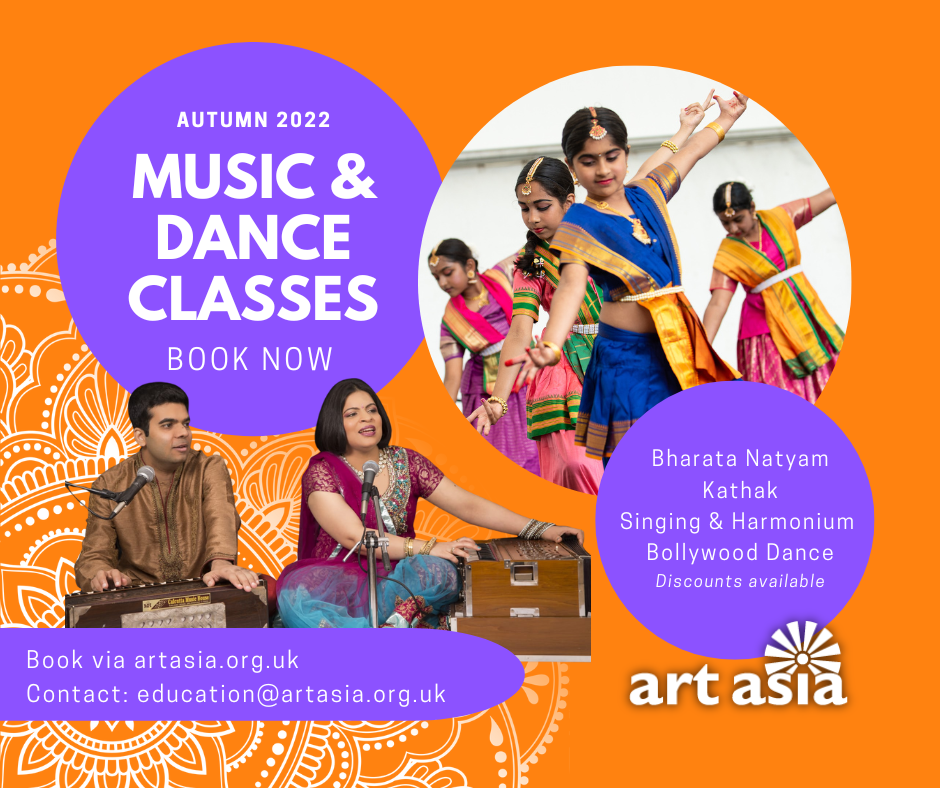 Learn a variety of South Asian music and dance artforms this autumn.
We offer a variety of music and dance classes for all ages and abilities, led by professional performers and tutors. We also offer the opportunity for our students to perform at the Southampton Mela Festival as well as the Art Asia Annual Event, usually held in December, as a showcase of what they have learnt throughout the year. There will be group performances in Bollywood, Kathak, Bharata Natyam as well as Singing and Harmonium performances.
Our classes are friendly, fun and welcoming. We cater for the individual, whether you are a beginner trying out something new or looking to develop to the next stage and develop your learning.
Your tutors
Each class is led by professional tutors and celebrated performers:
Vidya Thirunarayan leads the Bharata Natyam classes,
Pooja Angra leads the singing and harmonium classes,
Rakhi Sood leads the Bollywood and Kathak classes.
What others say
"As a beginner and someone who works full time, I thought I will struggle to learn a new dance form like Kathak but Rakhi has been very helpful, understanding and patient with me. Thank you so much." Ann Varghese, Kathak student 
"My experience with joining the Kathak mixed ability class has been very positive. Dancing is something I find challenging but very rewarding and I find it benefits my mental health as well as physical." Emma Hiley, Kathak student 
"It is a matter of pleasure for me that having to learn a new skill at the age of 67, after my retirement, it has been a great journey in learning for me.  Having no knowledge of harmonium or Indian classical music, I can now play and sing with confidence. It was made possible by excellent teaching style & knowledge of Pooja Angra." Subash Verma, singing and harmonium student
"Neev has been doing Bollywood dance classes with Rakhi Sood since she was 5 and this year she turns 11. Rakhi teaches in a well structured, fun manner and is very engaging with the students. Neev has great fun in the classes and gets a good workout at the same time. The classes are an important part of Neev's social, cultural, educational and physical development and she will continue with the classes for as long as possible. Thank you Rakhi and Art Asia." Mother of Neev, aged 11, Bollywood Dance student
Discount for multiple bookings
If you book for more than one class you'll also enjoy a 20% discount. This can be for you or a family member.
Book now
Find out more about all music and dance classes here and contact Pooja Angra at education@artasia.org.uk for more information.