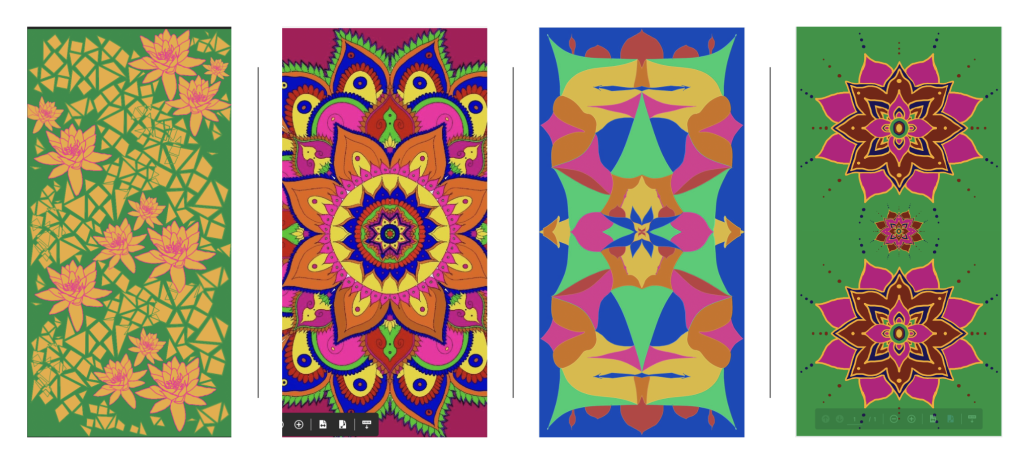 This year, to celebrate the return to a live Mela setting, Art Asia has collaborated with the BA (Hons) Textiles department and the BA (Hons) Events Management department at Arts University Bournemouth (AUB) by inviting first year textile students an opportunity to design flags that would be displayed at the festival.
"We are tremendously excited to be working with Art Asia on Southampton Mela. Not only does this present opportunities for artists and producers to work on a project of a significant scale very early in their careers but provides Arts University Bournemouth with an opportunity to support Mela which has tremendous cultural significance not only in Southampton but across the region. We already have plans to develop our partnership with Art Asia further and to investigate new opportunities for collaboration in the future" Kevin Chambers, Course Leader, BA (Hons) Events Management, Arts University Bournemouth
We caught up with Alicia Bermudez Garcia who was working on the project as part of her work placement this year. 
"As part of my BA (Hons) Events Management degree at Arts University Bournemouth (AUB), I needed to complete a six-week work placement in industry. I decided to complete my placement within the Events Management team at AUB and it has been a fantastic experience. I have been provided with an opportunity to work in a variety of front facing events and manage my own project from start to finish. My goal starting the work placement was to gain confidence in project management skills and further develop my communication skills. 
Working on creating the flags and the wider project for Mela has given me the opportunity to obtain confidence in all my personal objectives. In addition, working with Art Asia has been a privilege that I will forever keep in my heart. The work and dedication of the team to provide a free festival with an outstanding programme for the people of Southampton is beyond this world."
The BA (Hons) Textiles students who are in their first year at AUB, were given a brief to design in May this year. They were encouraged to do their research on South Asian design motifs to understand the client and the context of where their work will be displayed. Out of 12 entries 4 final designs were chosen; the winners are Anita Scudamore, Abbie Bradley, Mae Thompson and Hannah Elliott. You can view the 4 winning designs in front of the Main Stage at Mela on Saturday 16th July 2022.